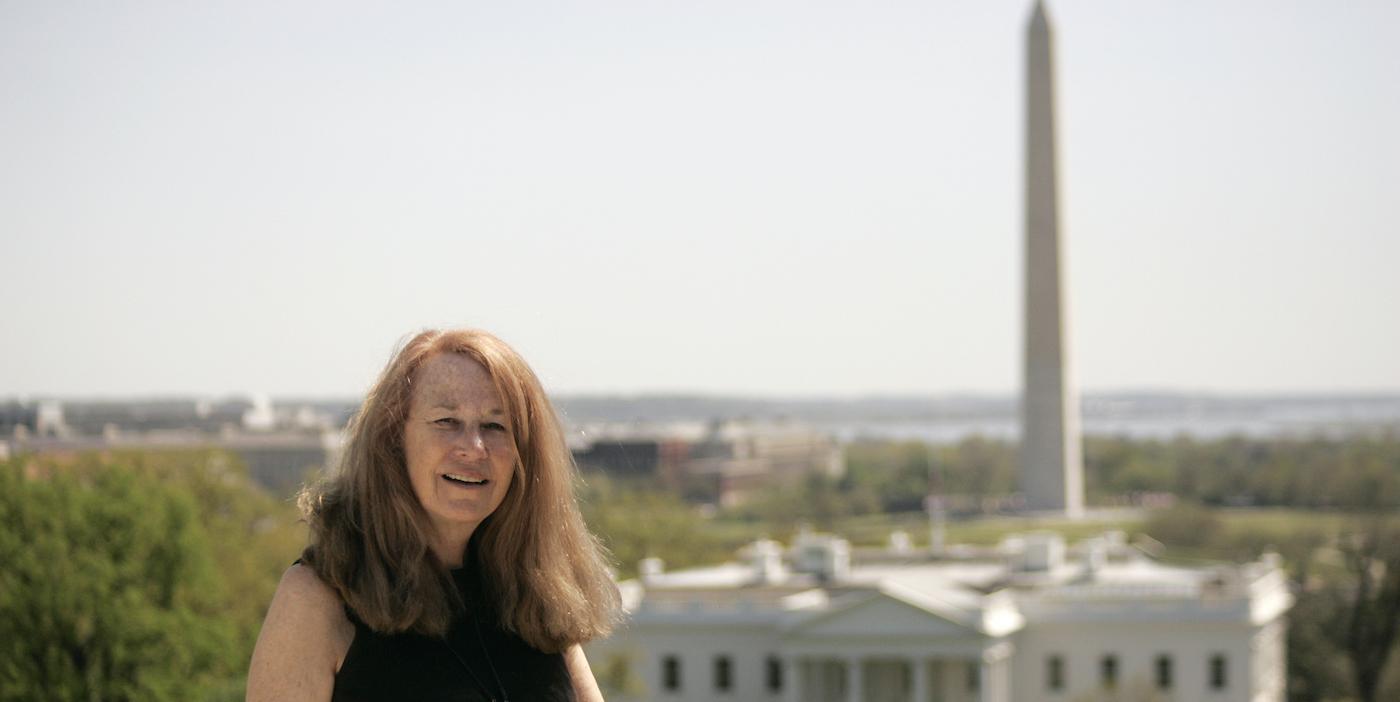 Connie Lawn, a freelance broadcast journalist and 40-year member of the White House press corps, died April 2, 2018, at her home in Falls Church, Va. She was 73. The cause was a rare form of Parkinson's disease, said her husband, Dr. Charles Sneiderman.
Ms. Lawn founded her own one-woman news bureau, Audio Visual News, which had radio clients around the world, including networks in Britain, Canada, Australia, Israel and South Africa. Ms. Lawn said she had created her own company in order to maintain her independence and pursue stories that interested her.
She was especially popular in New Zealand, where she was heard nationwide on Radio New Zealand.  According to a 2016 Washington Post profile, her persistent questions at White House briefings about tariffs on New Zealand's dairy exports led her to be called the "Butter Queen." Sometimes White House press staffers simply said "nothing on New Zealand today, Connie," when they saw her at a briefing.
Ms. Lawn came to Washington in 1967 for a job on Capitol Hill in the office of a member of Congress, then moved into broadcasting. The next year, she quit the profession briefly to work for Sen. Eugene McCarthy (Minn.) during his maverick campaign for the Democratic presidential nomination.
She returned to journalism in June of 1968, and was back on the air covering Robert F. Kennedy during the California Democratic primary, conducting one of the last broadcast interviews with the New York senator and Democratic presidential candidate. She was at the Ambassador Hotel when he was fatally wounded by an assassin's bullets.
She covered the attempted 1981 assassination of President Ronald Reagan in Washington and the next year she was in the Middle East during the Israeli invasion of Lebanon. She told New Zealand's The Southland Times that she escaped from a would-be abductor in Lebanon by slamming a bag into his face, leaping out of his Jeep and running toward Israeli soldiers while shouting "Shalom!"
Constance Ellen Lawn was born in Long Branch, N.J., on May 14, 1944. Her father was a lawyer and businessman, and her mother was a chemist. She graduated from Boston's Simmons College in 1966 and did postgraduate study in Paris at the Institute of Political Studies, better known as Sciences Po.
In her 2014 memoir, "You Wake Me Each Morning," Ms. Lawn discussed rampant sexual harassment throughout her career from her journalistic supervisors and from public figures she tried to interview.
Her early journalism career provides just one example: At a TV station in New Bedford, Mass., managers made her weather girl despite not having any experience in meteorology, she told The Post. "I was provided a wardrobe that included a dress that stopped at the top of my thighs," she writes in her memoir. "I was supplied a red wig, with straight hair that fell down to meet the hemline of my dress. It was beautiful, but if I swung my head around to point at the weather map, it would fall off, right in front of the audience."
In protest, she refused to learn anything about weather reporting and even made things up, once telling her southern New England audience it would be a great day to visit the beaches of Cape Cod. Broadcasting from a windowless studio, Ms. Lawn was unaware of the torrential downpour outside.
But she was not discouraged by such experiences, colleagues said, and did what she could to make the White House press corps more welcoming. Ann Compton, a longtime White House correspondent for ABC News, wrote that Ms. Lawn was "ever-present, and ever-supportive," of her fellow reporters.
Ms. Lawn, who worked alongside trailblazing female reporters like Helen Thomas, was one of the most senior reporters at the White House. "It is something that reminds me to keep striving," Ms. Lawn wrote about her longevity in the job on HuffPost in 2017. "I want to remain a viable part of this unfolding history as long as I can."
Her husband said that the last press briefing she attended was on Dec. 14, 2017.
As the Parkinson's advanced, she was unable to attend regular press briefings, making her feel isolated from the rest of the White House press corps, which, she told The Washington Post, "is my family."
Sources
Connie Lawn, Washington reporter for decades, dies at 73. Barnes, Bart . The Washington Post (Online), Washington, D.C.: WP Company LLC d/b/a The Washington Post. Apr 4, 2018.
Connie Lawn, Independent White House Reporter, Dies at 73. Slotnik, Daniel E. New York Times April 3, 2018
'Everything had sexual connotations': Being young, female and a reporter in the 1960s (Posted 2016-10-07 16:09:04) Bruno, Debra. The Washington Post; Washington, D.C. [Washington, D.C]07 Oct 2016. http://wapo.st/2dB5mj4?tid=ss_mail
Notable Publications
Voice from America : Off the Air with Radio New Zealand's Washington Correspondent, by Connie Lawn. HarpersCollins.
     In this account of her twenty-six years as a reporter, Connie Lawn, the voice from America, familiar to thousands of Radio New Zealand listeners, gives her perspective on events as they unfold and become news.
You Wake Me Each Morning : the Final Chapter, by Connie Lawn. iUniverse.
     "You Wake Me Each Morning"--that is what listeners around the world have said to Connie for years, as they heard her radio broadcasts in this country and around the world. The first time she heard the phrase was from Sam Lewis, America's long-time Ambassador to Israel. Some listeners have called the voice sexy, authoritative, funny, snobby, or sophisticated. Connie tries to incorporate it all, as she tells the stories that make the news or change history. Of the many compliments she has received, the most important came from Nelson Mandela. The former South African President said he listened to her broadcasts for years while in prison. He told her, during a Washington news conference, "You Gave My People Hope." Then he went on to say, "You are not as big as I thought you were!"