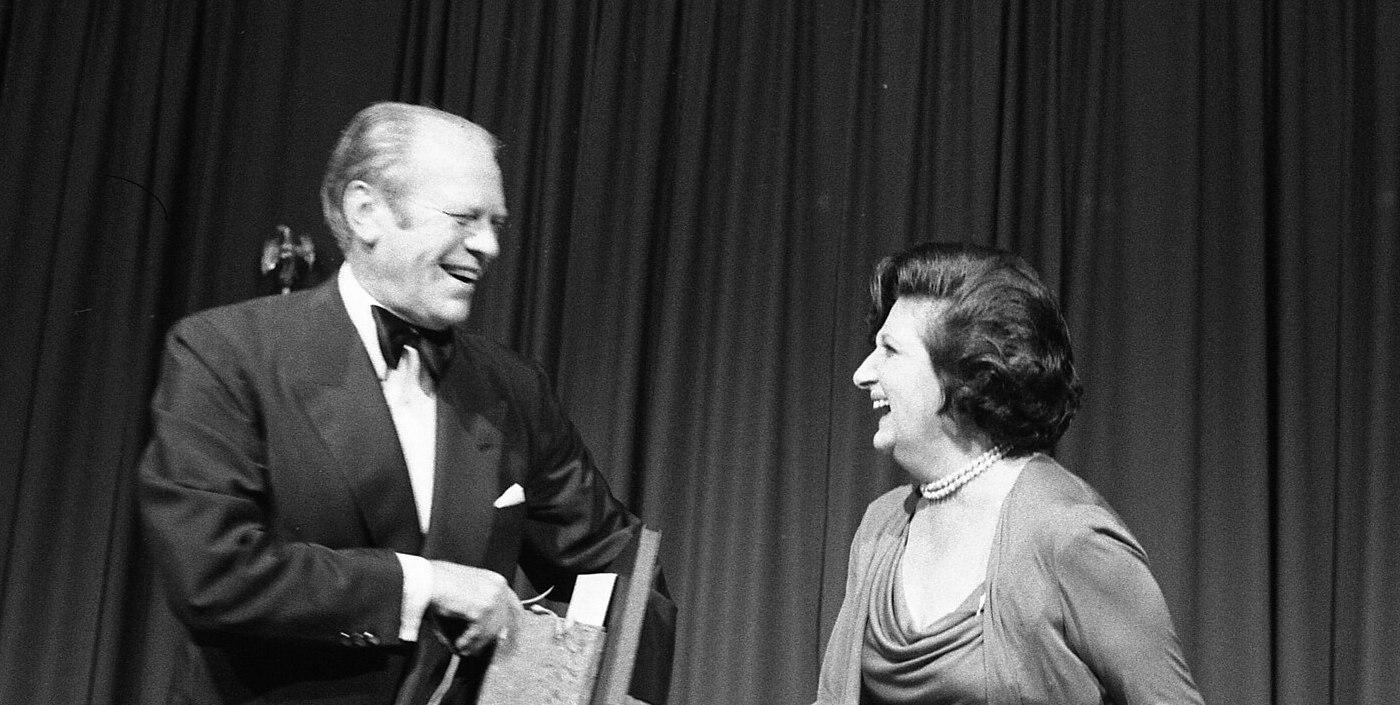 Helen Thomas was one of the most prolific and revered members of the White House Correspondents Association (WHCA). Throughout her 70-year career, Thomas garnered a reputation that earned her the title of "Sitting Buddha" and "First Lady of The Press" among her peers in the WHCA. 
Getting her start in the District with Washington Daily News, Thomas quickly moved on to United Press International (UPI) and began covering John F. Kennedy during his 1960 presidential campaign. Thomas became a White House Correspondent following Kennedy's election, making her the first female reporter to join their ranks. In 1962, Thomas convinced Kennedy to boycott the White House Correspondents' Dinner until the association agreed to open the event to women. The ban was subsequently lifted.
In 1970, Thomas was named UPI's chief White House correspondent- becoming the first woman to serve that role for any of the wire services. Two years later, she was the only female print journalist to join President Nixon on his historic journey to China, marking the first time a U.S. president visited the Chinese mainland.
UPI further promoted Thomas in 1974 to the head position of their White House Bureau, again becoming the first woman to assume that role. The next year, she became the first female reporter to join the Washington Press Corps club, as well as the first woman to become the president of the White House Correspondents Association. Thomas resigned from UPI in 2000, after it was bought by News World Communications, a subsidiary of the Unification Church.
Later that year, Thomas was hired as a national columnist for Hearst Newspapers and continued to report on the White House under the second Bush administration. Thomas's relationship with Bush's administration was quite confrontational, and she was quoted at one point saying that she was "covering the worst president in American history."
Her relationship with President Barack Obama was much more amicable, with Obama once bringing cupcakes to a White House press conference to celebrate their shared birthday of August 4. The President then led the assembled reporters in the singing of Happy Birthday.
Thomas passed away at her home in Washington D.C. in 2013. In the wake of her death, President Obama issued a statement in which he referred to Thomas as a "true pioneer, opening doors and breaking down barriers for generations of women in journalism."
Notable Publications 
Front Row at the White House : My Life and Times, by Helen Thomas. Scribner.
     Assigned to the White House press corps in 1961, Thomas was the first woman to close a press conference with "Thank you, Mr. President," and has covered every administration from Kennedy's to Clinton's. Along the way, she was among the pioneers who broke down barriers against women in the national media, becoming the first female president of the White House Correspondents Association, the first female officer of the National Press Club and the first woman member, later president, of the Gridiron Club.
​​Listen Up, Mr. President : Everything You Always Wanted Your President To Know and Do, by Helen Thomas and Craig Crawford. Scribner.
     "Helen Thomas has covered the administrations of ten presidents in a career spanning nearly sixty years. She is known for her famous press conference closing line, 'Thank you, Mr. President, ' but here she trades deference for directness. Thomas and veteran journalist Craig Crawford hold nothing back as they use former occupants of the White House to provide a witty, history-rich lesson plan of what it takes to be a good president. Combining sharp observation and dozens of examples from the first presidency through the forty-fourth, the authors outline the qualities, attitudes, and political and personal choices that make for the most successful leaders, and the least. Calvin Coolidge, who hired the first professional speechwriter in the White House, illuminates the importance of choosing words wisely. William Howard Taft, notorious for being so fat he broke his White House bathtub, shows how not to cultivate a strong public image. John F. Kennedy, who could handle the press corps and their questions with aplomb, shows how to establish a rapport with the press and open oneself up to the public. Ronald Reagan, who acknowledged the Iran-Contra affair in a television address, demonstrates how telling hard truths can earn forgiveness and even public trust. By gleaning lessons from past leaders, Thomas and Crawford not only highlight those that future presidents should follow but also pinpoint what Americans should look for and expect in their president. 
Dateline : White House, by Helen Thomas. MacMillan.
     The Longtime UPI White House correspondent reports on her contacts with and observations of Presidents Kennedy, Johnson, Nixon, and Ford, their families, and their staffs.
The White House Press on the Presidency : News Management and Co-option, edited by Kenneth W. Thompson. University Press of America.
     Includes chapters written by James Deakin on the problems of presidential press relationships, by Helen Thomas on Ronald Reagan's press management, and by Frank Cormier on co-option by Presidents.
​​Thanks for the Memories, Mr. President : Wit and Wisdom from the Front Row at the White House, by Helen Thomas. Scribner.
White House Correspondent, by Helen Thomas. Encyclopedia Americana/CBS News Audio Resource Library.
     Helen Thomas, UPI Bureau Chief at the White House, discusses Presidents that she has known and their families.
Portrait/Interview of Helen Thomas, Dean of White House Reporters, by Helen Thomas.  CBS-TV.
     Reporter Helen Thomas, Dean of the White House Press Corps, explains how the press goes about posing questions to both the president and high ranking members of his administration. Thomas talks about her early years working at different jobs in reporting before landing her position covering the White House. Former Press Corps members Leslie Stahl and Sam Donaldson assert that Thomas is a master of phrasing a question to gain a newsworthy answer. Includes an excerpt of the 1985 Gridiron Club Dinner in which Thomas lampoons former vice presidential candidate Geraldine Ferraro to the tune of "La donna e mobile."
Thank You, Mr. President : Helen Thomas at the White House,  by Helen Thomas. HBO Documentary Films.
     Profiles the iconic journalist, a legend in political reporting, who has covered every president since John F. Kennedy, supplemented by clips of Thomas in action, plus archival photos and footage.
 A View from Washington, by Helen Thomas. Pittsburg State University Foundation.
The Great White House Breakout, by Helen Thomas. Dial Books for Young Readers.
     With his mother as president, the rules and restrictions become too confining, until the day that Sam and his pets, Warren the cat and Leonard the rat, decide to escape and explore Washington D.C.
Hard News Leads, by Helen Thomas and Peter Berkow. Annenberg/CPB.
     Examines how the news stories are selected for publication and broadcast. Shows the power and process of the summary lead in newspaper, broadcast, and public relations writing. White House correspondent, Helen Thomas, and Chicago Defender editor, Michael Brown, discuss and demonstrate this basic journalism tool.